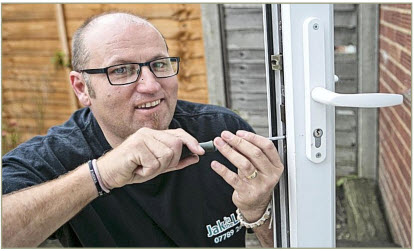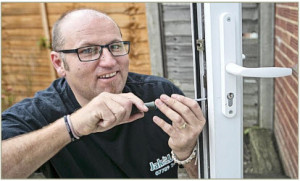 If you are looking to start in a new career in Locksmithing here is a recent article that was featured in the Daily Mail that might be of interest to you.
It was written by Sarah Harris
RUSSELL MASLEN retrained as a locksmith after the brewery he worked at for over a decade closed down. The 42-year-old from Reading, Berkshire, enrolled on a course with the UK Locksmiths Association three years ago and launched his own business, Jak In The Locks.
Mr Maslen, who worked on the production line at the brewery in West London, says: 'My employers gave us all funds to retrain, which was really good of them.
'I took the locksmiths' course and really loved it. I still get a lot of support from the UK Locksmiths association. I know they'll always pick up the phone if I need them.
'Being my own boss is great, and I wish I'd known the advantages of being self- employed a long time ago. You work when you want and decide your own hours.'
Mr Maslen, who is married to Vicki, 41, and has two daughters, Hannah, seven and Gabrielle, ten, says: 'This job gives me time to spend with the children, like take them to school. at the brewery I did 12-hour shifts and had already left for work before they got up, and they were in bed by the time I got home. When I was doing nights, I was asleep during the day, so I hardly saw them.'
He adds: 'I'm a puzzle man and like crosswords and word searches, and to me, being a locksmith is like solving a puzzle. You have to work out what you're going to do and how something works.'
Locksmith recruits must be practical and personable and — above all — honest, because they will need to command the public's trust.
The UK Locksmiths Association two-day Locksmith Course covers the essentials needed to set up as a mobile locksmith, including rim cylinder and mortice lock picking and fitting,key cutting,  garage locks and window locks, as well as advice in starting a business. a third day will provide those taking the course with further in-depth information.
Meanwhile, there are hundreds of providers across the country enabling people to learn skilled trades in other areas including decorating and plastering.
New Career Skills has trained over 7,500 students who have changed their lives after enrolling on courses to become plumbers, electricians and home energy advisers.