Member Benefits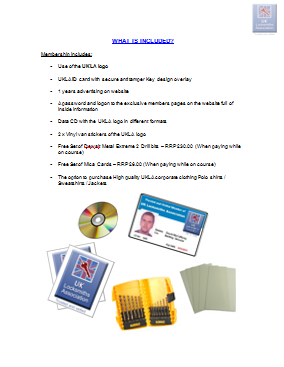 Download the Members Benefits Here
Join Now
If you are already a Locksmith then join the UK Locksmiths Association to gain more customers
1. The UK Locksmiths Association (UKLA) have the right to cancel any memberships without refund for any reason. However, this will only happen in extreme circumstances.
2. The UKLA are not responsible or liable for any work carried out by any UKLA members or any actions taken by their members for customers and or clients.
3. The UKLA are not liable or get involved in any disputes with their members and their customers contracts whether written or verbal. However the UKLA will do their best to get the matter resolved quickly and efficiently.
4. There will be no refund to the member if the Data Protection Form (DPF) is unacceptable upon applying for UKLA membership. There will be no refund for UKLA membership to any member for any reason. All decisions are completely at the discretion of the UKLA.
5. UKLA membership is renewable every 12 months. Renewals currently at only £50 (incl VAT) per annum if done as an "Automatic renewal".
6. Automatic renewals will be done where possible and can be 30 days in advance.
7. If you, the member does not wish to renew their membership we require 30 days notice prior to the renewal date either by e-mail or by post.
8. All members must have the relevant up to date Insurance cover.
9. All members must carry their ID cards when undertaking any Locksmithing jobs.
10. If a member takes on extra staff / sub contractors then the Locksmith carrying out the work must be a member. Additional members are charged at a minimal price.
11. All members must be fair and honest with all their customers / clients.
12. All members must look after the interests of the UKLA and their fellow members.
13. UKLA membership is only completed once all the required documentation is received by the UKLA. If the member fails to supply all the docs within 12 months then membership is void.
14. No-one is permitted to take any part of the website without permission.
15. No members / students are permitted to copy or give any UKLA documents to any other persons.
16. The UKLA Logo and information relating to the UKLA belongs to the UKLA. If the UKLA feel the Logo or any company information on any docs, websites, advertising etc is being used in a manner that is unhelpful to the UKLA and / or its members then it must be removed.
17.Replacement documents are chargeable.
Find A Locksmith
Need to find a vetted and trusted locksmith ?
Locksmith Course Info
Read More About Locksmith Courses