Member Benefits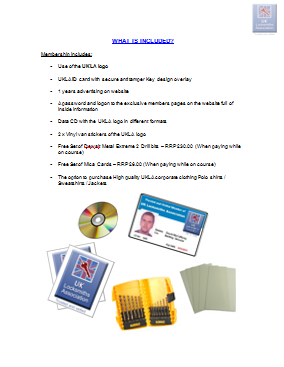 Download the Members Benefits Here
Join Now
If you are already a Locksmith then join the UK Locksmiths Association to gain more customers
UK Locksmiths Association frequently asked questions about membership
If this has not answered your question then feel free to contact us
1. What do I get for being a member?
For yearly membership of just £195.00 (incl VAT) you get to be a member of the Trusted and Vetted UK Locksmiths Association
UKLA ID card with secure anti tamper key design overlay
Data CD with the UKLA logo in different formats
Receive 2 vinyl van stickers of the UKLA logo.
Use of the Logo for any of your advertising, cards, headed paper etc.
12 months FREE advertising in the UK Locksmiths Association directory.
Obtain work by an entry in the online UK Locksmiths Association directory.
Password and logon to the exclusive members pages on the website full of inside information
Free set of Dewalt Metal Extreme 2 Drill bits – RRP £30.00 (When paying while on course)
Free set of Mica Cards – RRP £6.00 (When paying while on course).
Option to purchase High quality UKLA corporate clothing Polo shirts / Sweatshirts / Jackets.
Give your business a better profile by being a "Trusted and Vetted" locksmith.
2. How quickly can I become a member?
We need from you
Two passport photos. (One for your I.D card and one for our files)
Data Protection Form. (You obtain this from your local Police station. This shows you have a clean criminal record)
Membership details. (We send to you by e-mail or post)
Membership subscription: cheque for £195.00 inc VAT
Once we have received ALL of the above you will be sent the I.D card, Vehicle Logo's, members login and password, Logo's on CD (which you can then give to your printer for business cards, advertising, leaflets, headed paper etc).
You will then be placed onto the "Find a Locksmith" page so you can get 12 months free advertising.
3. How do I become a member?
You will need to complete the online registration form which is here, once we have received the form we will contact you. You will be notified by us once your application has been approved.
Find A Locksmith
Need to find a vetted and trusted locksmith ?
Locksmith Course Info
Read More About Locksmith Courses