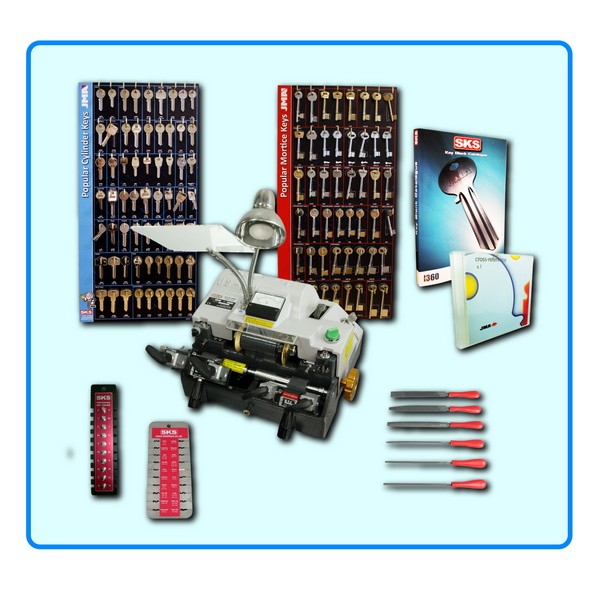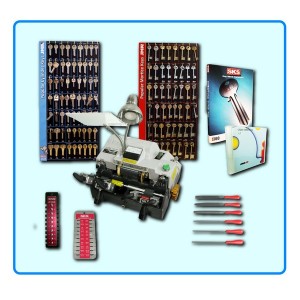 This complete basic package will enable you to cut all the popular keys on the market from Yale and Chubb House style keys to office desks and padlock keys.
Included in this deal is the Cyclone Dual Purpose Machine, which is easy to use, compact and very reliable. The 2 key display boards with 5 blanks per hook will give you a good range of the most popular keys sold in the UK.
A variety of tools and accessories, such as key gauges, files and key reference books are also included.
This key cutting kit and starter pack contains.
–Cyclone Dual Purpose Key Machine
–Popular Cylinder Keyboard (5 per hook – 300 total)
–Popular Mortice Keyboard(5 per hook – 225 total)
–Mortice Pin and Pipe Gauge
–Popular Cylinder Keyway Panel
–Warding File Set
–JMA Key Comparison Software
–JMA Key Catalogue
–SKS Mortice Key Catalogue
PRICE £1,600
INCLUDES VAT AND FREE NEXT DAY DELIVERY if ordered before 14:00 hrs
"FREE TRAINING WHEN PURCHASING ANY MACHINE"
If you are abroad please contact us for a shipping cost
To order simply call us on 020 8590 7111
The specification for the key cutting machine included in pack
A popular, accurate Cylinder machine which is fitted with versatile 4 way jaws and a nylon brush.
Duplicates single and double sided cylinder keys
Belt driven for increased motor power
4 way jaw system
Titanium plated cutter
Nylon Brush
Solid metal casing
Weight: 18.5kg
Size (W x D x H) – 230 x 300 x 230mm
This plus version include lever control, eye guard and powerful light.
"We strongly advise to wear protective goggles and use the machine with extreme care and safely. UKLA are not responsible for any injury whatsoever and can give free training in our Training Centre when purchasing a machine"